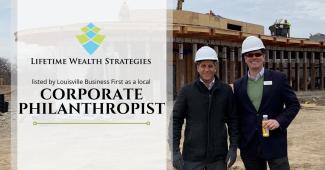 Louisville Business First: Corporate Philanthropist
Top Corporate Philanthropist
Lifetime Wealth Strategies was named by Louisville Business First as a Top Corporate Philanthropist for 2021. Our company proudly supported many local organizations, including the Kentucky Humane Society, Waterfront Botanical Gardens, and Kentucky to the World. As a team, we understand that local organizations are pillars in our community, and are proud to support a variety of local organizations each year. 
Our Commitment to Sustainability
Our practice of supporting organizations that have a strong focus on environmental, social or governance operations extends past company donations. Our team is comprised of philanthropic individuals, each with our own charitable interests that receive our support, board membership, and volunteer hours. We also have incorporated this philosophy into our business model, making us one of Louisville's leaders in ESG portfolio management. Our clients have access to a portfolio that offers both performance that meets their needs, and the investing practice that matches their values.
To learn more about our ESG portfolio, or other ways we invest sustainably, let's chat. We would love to learn about your goals, values and the missions that are important to you.