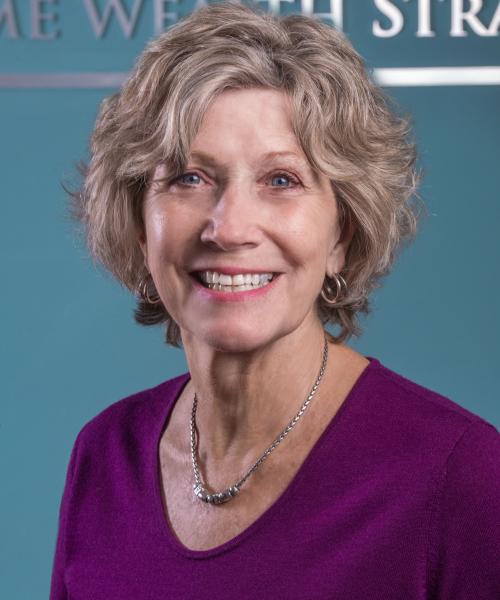 Judy Morrison, MBA
Financial Advisor
(502) 267-5433
502-384-4901
Developing relationships is what I enjoy most about being a financial advisor. I want to learn about your triumphs and struggles as well as your goals and dreams.  My personal experience with children, divorce, corporate downsizing, career changes, aging parents, and deaths of a spouse and parents helps me relate to the particular needs of people in personal and professional transitions.
In my 28 years in financial services, I have found it is far too common for financial advisors to take a client's money and invest it in products that are most beneficial and convenient for the advisor. My approach has been to focus on my client and let my client's goals determine my strategy.  I strive to build strong relationships with my clients and to provide them with exceptional service as I manage their portfolios. 
I grew up in New Jersey and graduated from St. Lawrence University in New York before beginning my professional career as a management trainee at a large insurance company in Boston, Massachusetts. From there, I transitioned to managing the design and implementation of portfolio management systems for large institutional investors at a consulting firm. In 1980, I relocated and earned my MBA from the University of Louisville. While a full-time instructor of Management at Bellarmine University Rubel School of Business, I also developed strategic and marketing plans for small and medium-sized businesses as an independent consultant.
In 1993, my love of learning, educating, building relationships, strategies, and portfolios, and my experience in business and consulting led me to pursue a fulltime career as a financial advisor and I have never regretted that decision. I joined Lifetime Wealth Strategies in 2019 after the death of my long-time business partner, E.J. Gary, with whom I worked at First Commonwealth Capital Management for 25 years. Since joining Lifetime Wealth Strategies, I have continually been impressed by the breadth of knowledge and the commitment to client care demonstrated by my LWS colleagues, and I am honored to be a member of the team.
When I am not working, I enjoy swimming, hiking, reading, and spending time with friends and my family- my son in Columbus, Ohio and my daughter in Buenos Aires, Argentina.  My desire to be involved in the community and my love of swimming lead me to become certified as a volunteer instructor in the Adult Learn to Swim (A.L.T.S.) program, and this past summer I participated in the program at Algonguin Park.